Slovenians' beer tastes evolving - slowly
Slovenian beer culture is imbued with tradition. Until not long ago there were just two main brands of beer that utterly dominated the market, their influence so deep that they fused with local and regional identities. This is now changing, although not as fast as some would have hoped.
The country currently boasts 100 breweries, according to the latest data by the Slovenian Breweries' Association, a sea change compared to the Laško-Union duopoly that dominated the market for most of the 20th century.
This is in line with the broader trends driven by the emergence of craft breweries that first proliferated in the United States and then spread to Europe and other parts of the world.
Despite the large number, however, microbreweries account for roughly 2% of total sales, according to figures by the Chamber of Commerce and Industry for 2022, which is far less than in some major markets, where craft beers account for a tenth or more of sales.
Overall, Slovenian brewers produced 2.29 million hectolitres of beer in 2021, the latest year for which data are available. Domestic consumption totalled 1.61 million hectolitres or 78 litres per capita, the sixth highest number in the EU.
From lager to a variety of new styles
Despite their small market share, microbreweries have spearheaded an explosion in the variety of beer styles and flavours available to drinkers. There are currently around 120 styles of beer and new ones are invented every year as brew masters experiment with new techniques and flavours.
Nevertheless, lager remains the top choice for Slovenian beer drinkers, according to Pivovarna Laško Union, the country's largest brewery, which was created in 2016 with the merger of the erstwhile rivals Pivovarna Laško and Pivovarna Union.
"Generation Y and generation Z are particularly enthralled with craft beers. They seek out novelty, enjoy the thrill and like to try out new products," the company says.
Pivovarna Laško Union used to offer mainly lager and dark lager but in recent years it has been experimenting with different styles such as pale ales. They say they remain committed to tradition but welcome the proliferation of craft breweries.
"Diversity is always welcome. As traditional and craft breweries work side by side, Slovenian brewing is evolving and the culture of beer drinking is developing," they said.
Brewing as a way of life
While there had been brew pubs before making their own beer, craft breweries hit the scene in the 2000s and a veritable explosion ensued in the 2010s. For many, it started out as a hobby and turned into a full-time business.
One of the most prominent players on the craft beer market is Maister, a Kamnik-based brewery that was launched in 2014 by Janez Skok, who combined his love of good beer with his degree in chemistry and experience in his family's pub.
"The idea for a microbrewery came when I changed careers from being a chemist to hospitality and I wanted to drink better beer at the establishment run by my mum and dead. And then I heard about craft beer and started to brew and sell my own, which then evolved into a brewery," he says.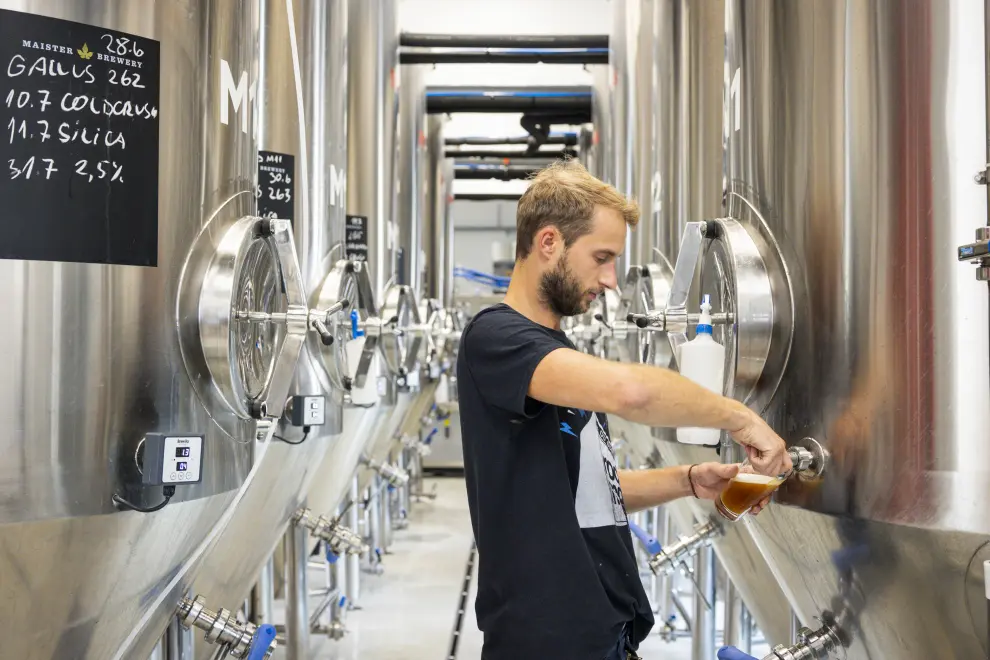 Maister brewery. Photo: STA
According to Skok, who says brewing is a way of life for him now, what sets a craft brewery apart is high-quality ingredients and the ability to adjust recipes to customer tastes. "But more than anything, craft beer takes longer to make since we ferment using the natural method."
He describes the attitude of Slovenian beer drinkers to new beer styles and flavours as positive, though he acknowledges it is necessary to continue educating beer drinkers. "We know that old habits die hard, but many learn to love craft beers once they get to know them better," he says.
Long history of hops growing
Part of the reason why Slovenian beer culture is so strong even though Slovenia is often ranked among Europe's wine drinking countries is the production of hops. Despite its small size, the country accounts for 2% of global hops production.
"Slovenian hops are known around the world and are among the most high-quality ingredients used in the production of the world's best beers," the Slovenian Breweries' Association says.
Some Slovenian beers are made using exclusively Slovenian hops, including the best selling beer in the market, Laško Zlatorog, others use special hops which are not grown in Slovenia.
The Maister master brewer says domestic suppliers are used whenever possible. He says native varieties of hops are of a high quality and provide an excellent basis for a good beer.