Flood impact to business huge
Business located in parts of Slovenia that have been hit hardest by the devastating flooding have suffered enormous damage. Apart from direct damage, businesses are concerned about a loss of income and deals that they say could affect even more companies down the supply chain. They have been given assurances though that the government will step in.
The German-owned household appliances maker BSH Hišni Aparati, which is located in the heavily flooded Upper Savinja Valley, was completely flooded and their high-tech machinery is in mud.
"It will take several weeks to restore production. The damage will cost tens of millions of euros," the company's director Boštjan Gorjup told the newspaper Finance. The company employs 1,700 people but Gorjup says a total of 5,000 will be affected considering the company's suppliers as well.
One of the worst hit companies in the valley is KLS Ljubno, an automotive parts maker which employs some 250 people. "We're facing a lengthy, hard and costly job and we'll do our best to fix this as soon as possible," the company's founder Bogomir Strašek told the Slovenian Press Agency.
He estimates the damage to machinery and equipment at €30-50 million, but business damage is to be set to be much higher. "I'm talking of the loss of market, buyers. We won't be able to supply for several months," he said.
He pointed to the impact the loss of production will have on the entire automotive industry, as the company holds a 17% market share.
Production has also been suspended at batteries maker TAB Mežica. The Mežica-based company said damage could range from a few million to tens of million euros.
A clean-up effort has been launched at TAB's plant in Žerjav, and the location in Črna na Koroškem will follow in a few days. Production in Prevalje is expected to relaunch next week, and in Žerjav a week later. It is yet unclear when this will be possible in Črna.
Bisol, a company in Prebold in the Lower Savinja Valley that produces photovoltaic modules, estimates the damage at €30 million. It expects production to be suspended for several months and deliveries of photovoltaic modules and other solar components to be disrupted until further notice.
In the Koroška region in the north, the companies affected the most include Cablex, a cable harnesses manufacturer. While its premises in Mežica have been fully destroyed, it plans to at least partly relocate production to other units in Slovenia.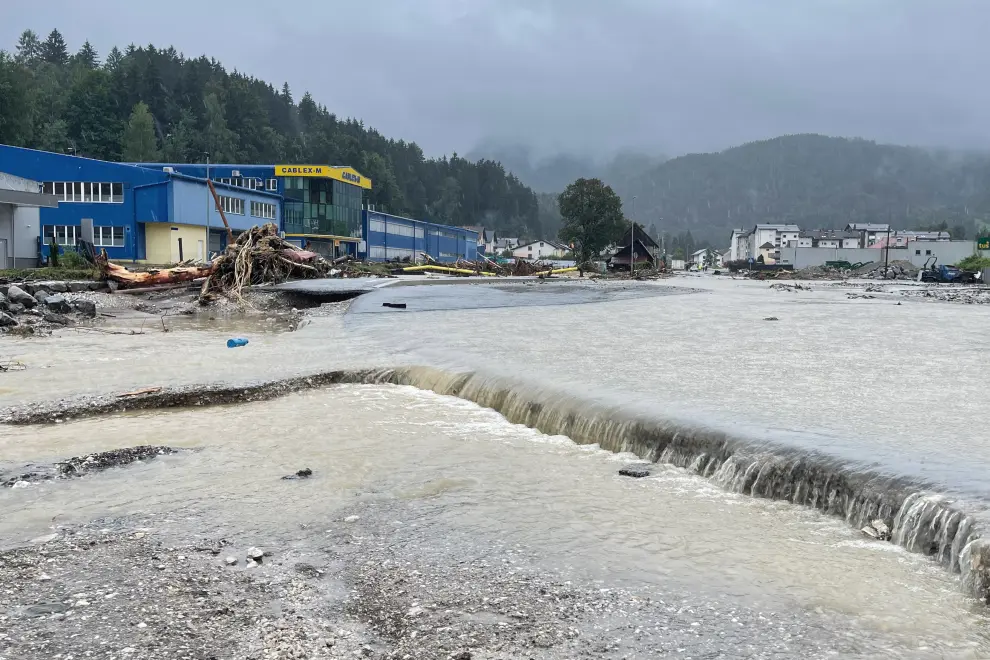 Floods at Cablex, a cable harnesses manufacturer. Photo: STA
SIJ Metal Ravne and SIJ Ravne Systems, subsidiaries of the steel group SIJ, have reportedly not suffered any major damage, but production remains in idle mode due to many employees not being able to make it to work. According to Finance, they expect to relaunch production in the coming days.
Also affected in Koroška are a number of companies in the heavily flooded town of Prevalje, including the pharmaceuticals company Lek.
One of the worst affected spas is Thermana Laško in the Savinja Valley, where the premises remain flooded, making an assessment of the damage difficult.
Meeting with business representatives on 7 August, Economy Minister Matjaž Han promised the state would help with liquidity loans or subsidies and furlough schemes. "The goal is to get business in the flood-stricken areas running as soon as possible," he said.
Speaking after the meeting, BSH director Gorjup said that a subsidised furlough scheme had been agreed. Han said that "100% subsidies are being proposed for companies that suffered major damage and 80% for those tied to affected companies".
"The aim is to secure full financing of the workforce while production is in standstill, and to enable liquidity loans from SID Bank and the Slovenian Enterprise Fund, depending on company size, to get us through the next six months or so," Gorjup said.
They also agreed on up to 60% co-funding of new equipment purchases.
Gorjup noted the need to restore road infrastructure, warning that rival companies would try to capitalise on the problems in Slovenia. Han promised steps to follow as soon as possible but said they would probably not be as fast as some imagined.
Meanwhile, Slovenia's leading insurers Zavarovalnica Triglav and Save Re have said the natural disasters hitting Slovenia and the broader region this summer will affect their bottom line. However, they also say that they have sufficient liquidity for the payouts, which will not affect their stability.