Heavy rain causes fresh flooding and disruption
A wave of storms with heavy rains, high winds, hailstones and lightning hit Slovenia on 28-29 August, bringing an abrupt end to summer and causing disruption and flooding in several parts of the country as the scars of the devastating early August flooding are still raw.
The southwestern part of the country was hit first with more than 200 weather-related incidents reported in the four municipalities at the coast alone on 28 August.
Many roads, buildings and cars were flooded as streets and squares in Koper and Izola turned into pools of water. Strong winds were knocking down trees, unroofing several homes and other buildings, including on a primary school and on one of the stands at the football stadium in Koper.
Power outages were also reported and the national Administration for Civil Protection and Disaster Relief said a firefighter was hit by lightning strike at the Koper port and had to be taken to hospital.
Commenting on the social media, Koper Mayor Aleš Bržan said the damage was huge, but told reporters that it was too early to make any assessments yet.
The national Environment Agency (ARSO) reported that up to 180 millimetres of rain fell in Koper in good three hours on 28 August.
This is by far above a long-term August average for the coast. Data on ARSO's website shows that the August average measured at Portorož Airport is 50 to 100 millimetres.
A short-lived but heavy hailstorm caused some damage in the greater Ajdovščina area, damaging cars but also some roofs, according to regional Civil Protection.
Hailstones also caused damage to crops and roofs in the nearby Kras region and some homes and basements were flooded in Tolmin in the west of the country. Minor incidents were also reported from the northwestern region of Gorenjska.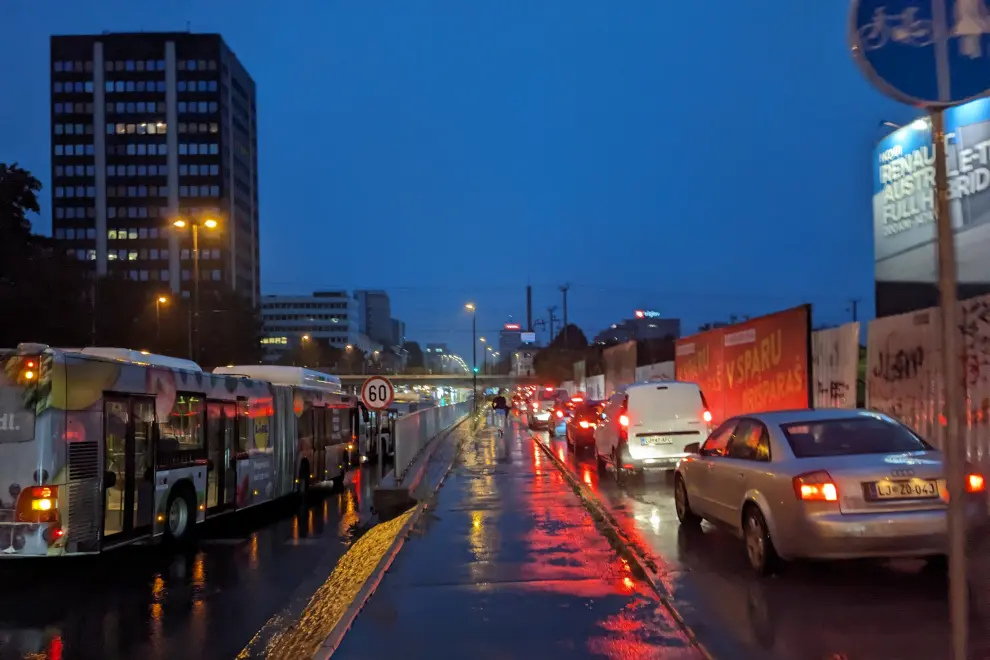 Dunajska Street, a main Ljubljana thoroughfare, gets blocked as an underpass is flooded by rain. Photo: STA
Heavy rains also pounded the capital Ljubljana, causing traffic collapse in the evening as several underpasses were flooded on some of the main throughfares, including Dunajska Street. Some of the cars ended up trapped despite warnings.
At night the rains reached the north of the country, the Upper Savinja Valley and the Koroška region, which were badly damaged in the disastrous early August flooding.
Luckily, the regions avoided any major incidents although some of the locals in Koroška had to be evacuated as a precaution.
The regional civil protection commander Alan Matijevič said the road in the Topla Valley, which was already damaged at the start of the month, was wiped out and some other roads were closed as a precaution due to the risk of landslides.
However, the danger is not over yet as the Environment Agency issued a new red alert, its highest, for Koroška due to the risk of floods and landslides for 29 August.