How hayrack has been degraded to poster stand
The hayrack, a free-standing vertical drying rack that is considered an essential part of Slovenian tradition but it has come to increasingly serve as a stand for advertising posters. The phenomenon is explored by artist Danilo Milovanović at an exhibition at the Museum of Contemporary Art in Ljubljana.
Milovanović, an interdisciplinary Bosnian artist who lives in Ljubljana, found the inspiration for the exhibition in The Sower, a 1907 oil on canvas by the Slovenian Impressionist painter Ivan Grohar, which is featured on the Slovenian 5 cent coin.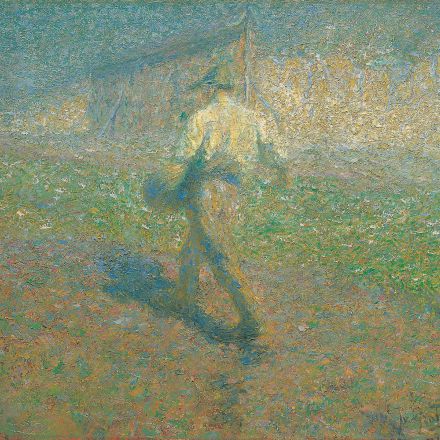 The Sower by Ivan Grohar (1867−1911). Photo: The National Gallery
Milovanović, who speaks of the exploitation of this now outdated image of a man sowing for market purposes, sees The Sower as a reflection of the Slovenian transition from rural to urban culture.
In the background the painting also features a hayrack or kozolec, with Milovanović noting the degradation of this original Slovenian rural architectural feature in the modern period.
"This 'creative' strategic approach to advertising in which economics and ecology collide, acts as an intrusion in the space of the cultural landscape, which could also be understood as a kind of intervention of neoliberal logic - as a commercialisation of the countryside, through which it pursues the transformation of space into its own decor," the museum writes.
Milovanović intervenes by removing a jumbo poster from a hayrack and cutting it up fully into long strips. He then places the poster back in its new form, but lays it across the drying bars horizontally in the manner hay used to be dried.
The ad is thus no longer readable, it is stripped of its functional content. It has been transformed into colourful bands of colour that now triumphantly and somehow festively wrap the forgotten wooden structure, evoking a distant ethnological motif.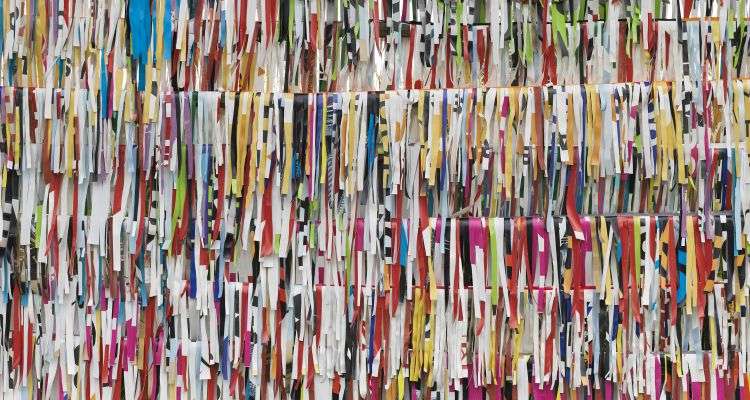 Danilo Milovanović sherds the poster and hangs it back on the hayrack. Photo: Museum of Contemporary Art
The latest project by the 31-year-old artist, who studied in Ljubljana as well as in Prague, stays true to his established method.
He uses public space as a medium and intervenes in it with an action, usurping the context of its symbolic structure to introduce a new meaning into it. In this reversal, public space functions as a transformer, shaping new interactions, experiences, relations, and situations through which the artist reacts to current social issues.
The exhibition Outcrying the Hawkers runs between 19 September and 28 January 2024.